/* Apparently my previous webstart lacked an image.. This has been taken care of now along with some other updates so it should all work again */
Hi!
So, I started making a tower defense game to learn A* path finding. It went very well and I am happy with what I have accomplished in a week! But now I feel like I am running out of ideas of what features to implement! I want to make this tower defense into something special. Balancing issues will be done latest I think. (Now the towers scale away like crazy with damage and range when they are upgraded and there is also only one wave size (although it can be sent repetitively with no delay in between if higher difficulty is wanted!)).
I have two ideas, one more developed then the other!
The less developed idea is just to turn it into a kind of medical tower defense with footmen, knights and all kinds of beasts invading you and archers, magicians, cannons and stuff like that defending as towers! But I guess this has pretty much been done by hundreds of people before me!:p
The more developed idea is:
You are the keeper of a very greasy and appealing hamburger. And there's lots of fat men out there who wants to steal it from you and eat it. The only way the fat men will let go of their obsession is if you feed them enough vegetables for them to turn skinny, realize they don't actually what the hamburger and go home. If I chose this path I think the towers would be throwing for example broccoli and cucumber on the fat men trying to reach the hamburger!
My game in its current state can be tried at
http://www.arenandb.org/webstart/FatBoyTD.jnlp
and I would be very happy if someone would play it and feed me some ideas of what to do next, let me know if there are currently any bugs or something needing changes or anything like that! Or just some encouraging words!:D
I'm sure you'll figure out how all the current feature's work yourselves. There's some of the usual TD stuff like (very little) tower variaty, towers can be upgraded or sold, you get to build your own map with walls, towers have different sizes.
Currently creeps will ignore any walls built or removed after they spawned. I don't know if I want to fix that or if I want to prevent building of walls while there are creeps alive.
Thanks!:)
Here's a screenshot of what the game might look like during a wave: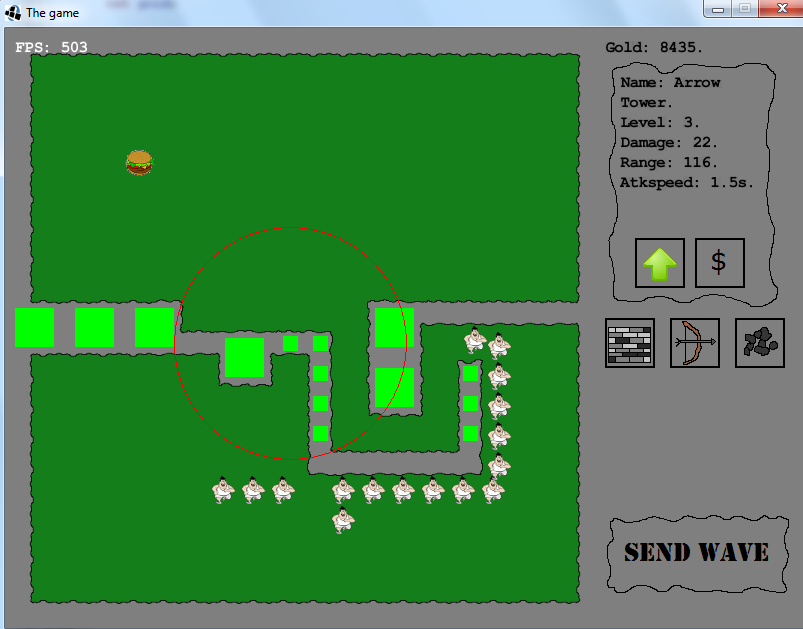 Of course the art is terribly ugly atm, but it would just take me soo long to learn how to draw properly and draw some towers so I decided to go with squares until I got my mate to draw some for me!